Treasure Valley Transit
Treasure Valley Transit, Inc. is a private non-profit public transportation company operating in rural southwestern Idaho since 1992. TVT's primary emphasis is our customer, a high standard of service and community outreach. TVT has created diversified funding sources utilizing a business approach through planning and implementation. Each service is branded to facilitate local ownership by the residents, elected officials and the business community.
TVT's service areas include:
Mountain Home Community Transit
Snake River Transit Idaho
Mountain Community Transit
Purchase of Service Contracts
Medicaid Transportation
All TVT services are accessible, drivers are well trained and the vehicles are maintained to high standards. TVT's driver training program includes in-house trainers for Passenger Service and Safety, Defensive Driving, CPR and First Aid as well as safety meetings to address a variety of safety related issues.
Bus Fares
Have your exact fare ready when boarding the bus. Bus drivers do not carry change. Passes can be purchased from the bus driver.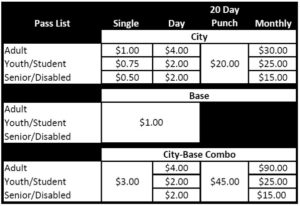 Bus Routes
Holidays
Buses do not operate on the following holidays: Labor Day, Thanksgiving Day, Christmas Day, New Year's Day, Memorial Day, Independence Day and Martin Luther King Day.
Bus Stops
The bus will pass by the time points every 60 minutes. You may flag the bus down anywhere along the route where it is safe for us to stop. We provide route deviation to all patrons of Mountain Home Community Transit. The service area includes up to ¾ mile from the published route. For more information or to schedule a ride, please call 208-463-9111

General Information
Safety, Comfort & Courtesy
To help make sure that everyone has a safe and comfortable journey, please observe the following travel tips and safety guidelines:
Please reserve the seats in the front of the bus for elderly passengers and passengers with disabilities.
Please buckle your seatbelt.
Please use electronic devices with headphones.
Smoking is prohibited on the bus.
Fold shopping carts, strollers and other objects and keep them out of the aisles.
Infants should be held securely on your lap or placed in a car seat. Please make sure that your car seat is buckled if in use.
Help keep buses clean by placing all litter in trash cans.
Beverages and food must be in a spill-proof container.
Only service animals trained to assist a person with a disability are allowed on the bus.
Wheelchair Lifts
All buses are equipped with wheelchair lifts. If you require the use of a wheelchair lift, our trained drivers will assist you in getting on and off the bus.
Bicycles
Mountain Home Community Transit buses are equipped with bicycle racks. Riders are responsible for loading and unloading their own bikes. If the rack is full you will need to wait for the next bus.
Luggage/Packages/Groceries
Luggage: Can be stored under a passenger's seat or on a passenger's lap, which will not protrude to another seat or otherwise interfere with other passengers, will be allowed. No luggage may be stored in the aisles or on the seats.
Grocery Bags: Only allowable of what you can carry in your arms.
Child Carriers: Child must be removed from the seat and placed on lap.
Strollers: Child must be removed from the stroller and the stroller will be folded and stored.